I have been so bad lately about keeping my blog updated with what I have been knitting! I'm really freaking out about Christmas so I have been knitting during all of my free time. I'm averaging about 1 project every 5 days. I have 8 projects left, which means I will need about 40 days to complete them- there are only 54 days left until Christmas! See my Christmas Countdown at the bottom of the page. That isn't leaving me a lot of time to spare AND get things in the mail. I'm making sure to knit presents in order of distance that they need to be mailed. I just finished Maine and New York and am currently working on Montana. All the rest are in California so they can wait until early December. And then I am left with the question- "What About Me?!" So I am also making very slow progress on a couple of lacy hats for myself.
So on with the projects! Here are a few that have been completed:
I completed the Convertible Mittens from Knit.1 magazines Fall 2007 issue. I knit them in a green wool/acrylic blend. I think the mitten part turned out really well, but the flap was way to small, then the modifications I added made them a little bit to long. I think that adding a few extra rows to the original pattern at the beginning should be enough to get them the right length. I'm still debating whether or not I'm going to redo them.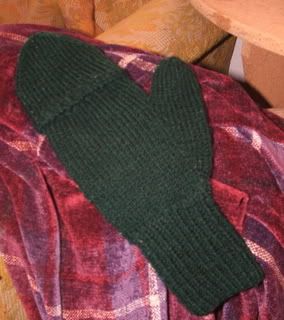 I am also 95% done with the first of 2 Santa Hats from Cider Moon that can be found here-
Santa's Ho-Ho Hat
. It was a very simple pattern and looks really great. I used Cascade 220 wool and all I have left to do is make the pom pom.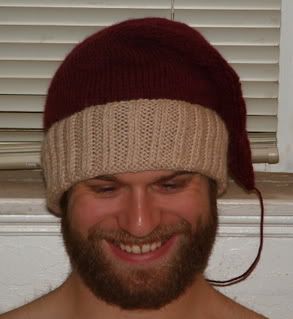 I was also feeling very left out so I started 2 projects for myself, although, they may take a long time to finish since the Christmas knitting takes priority. I started the Foliage Hat from Knitty found here
Foliage Hat
and another Lace Slant Hat found here
Lace Slant Hat
.
I'm knitting the Foliage Hat in an orange banana silk yarn-which is not for the faint hearted knitter! If you like things to be perfect never knit with this yarn! It is very inconsistent in texture, gauge, and color. But I really love it! And the Lace Slant Hat is going to be in a green wool/bamboo blend that Brian got me for my birthday. It's going to be so great! I'm really excited!!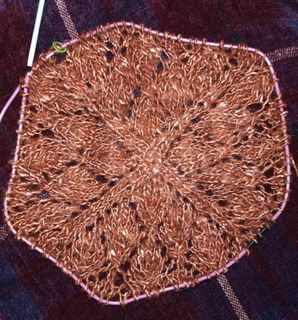 More to come later I'm sure!