My birthday was yesterday. I didn't want to do anything big and elaborate or "special", I just wanted a mellow day with my husband. I got everything that I wanted- and more!!! For my birthday my husband got me the Denise Knitting Needle interchangable pink (to support breast cancer) set. I was so excited!!! Here's the link to the kit:
Denise Pink Kit
And here's the pic posted on their site: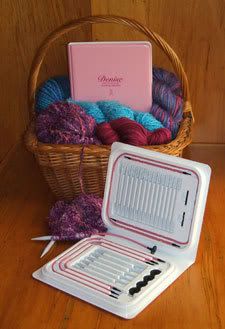 He also got me some really great bamboo and bamboo/wool yarn that I can't wait to knit up on my new pretty in pink needles!!!
I started to knit a hat with a pair today and I can't believe how comfortable they are to use, I like them better than any of the other circular needles I have. The circular part is less plasticy and more rubbery so they move better. They are really light weight and I swear I'm knitting faster than before.
I love them and my husband (I just hope he can tell which one I love more!)!