Brian knit these two projects:
First, a Catnip mouse from Stitch and Bitch Nation for the Helping Hands for Homeless Animals project with some scrap yarn. I stuffed it for him with some scrap yarn and a catnip pillow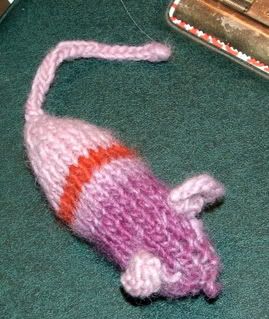 He also knit mittens from the book One Skein Wonders out of TLC Cotton Plus Solid in red for my uncles girlfriend for Christmas.
Both were pretty straightforward and easy patterns. They were great projects for him to learn increasing and shaping on since the only things he has knit so far are beanie style hats. I'm so proud of the progress he is making!